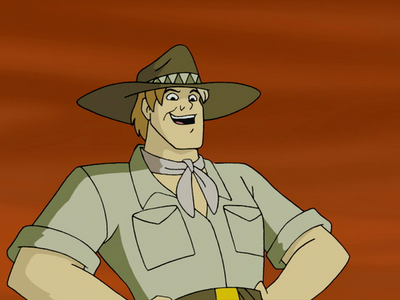 &nbsp
An Australian adventurer/explorer who is one of Fred's heroes. Voiced by Steven Jay Blum.
Melbourne first appeared in 3D Struction, where he and other explorers encountered The Dinosaur Spirit. He joins the gang as they explored the mine. Later at Velma's presentation, he and his fan Fred Jones grabbed Heather Lane after learning that she and his partner Senor Sapeda were the two using the dinosaur robot to scare people away while digging for gold in the mines.
Later in Mummy Scares Best, Melbourne joins the gang again and helps them solve the mystery of The Mummy. Later after he was separated from the gang, he was mistakenly identified as the mummy after waking up from a trance and then he captures the Mummy's true alter ego Prince Kazzaal Al-Famir. after that, he joined the gang at the village to enjoy the long lost water.
Community content is available under
CC-BY-SA
unless otherwise noted.